On April 11th, 1941, the occupying Italian army seized Ljubljana; two weeks later, organized resistance began. When the occupying army realized that partisan operations were being directed from Ljubljana, it set out to physically separate the city from its hinterland. Between January 1942 and September 1943, a 33-kilometer barbwire fence dotted with bunkers was erected, enclosing the city and transforming it into a type of concentration camp.
On May 9th, 1945, Ljubljana was liberated. The barbwire was removed, the bunkers were torn down, and in less than a year hardly any traces of the fence were visible. In 1957, on the occasion of the 1st Physical Culture Festival in Ljubljana, the local partisan veterans' association proposed that an annual walk along the former barbwire fence be organized in memory of the wartime hardships. In 1958, the vestiges of the bunkers were protected by decree as part of the cultural heritage. Since the liberation of the city until 1962, 102 memorial octagonal stones were laid along the line where fence ran during the occupation. These marked the position of the bunker of the occupying army.
The Path of Remembrance and Comradeship was completed in 1985. The path is presently 4m wide, 33 km long and covered with gravel. The Path of Remembrance and Comradeship was proclaimed by City Council decree in 1988 as a unique historical monument.
PST, 100 Photographs (Dejan Habicht), 2001
No Remembrance, No Comradeship, DV-Video (5 min) (with Dejan Habicht), 2006
Memorial Blocks, 94 Photographs (Dejan Habicht), 2008
Red stars, Photography and text, 2008
Political Practices of (Post-) Yugoslav Art
Museum 25th of May, Beograd
29 November – 31 December 2009
Curator: Jelena Vesic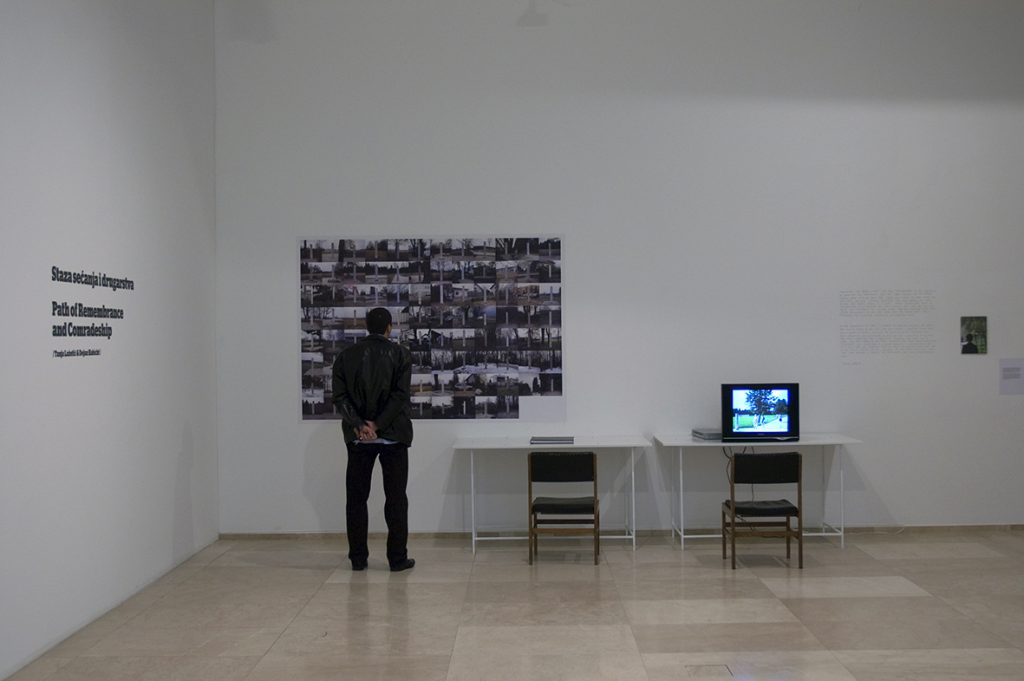 ON REVOLUTION'S ROADS
Memorial tourism in socialist Yugoslavia
Museum of Modern Art, Ljubljana
18 June – 28 August 2016
Curator: Marko Jenko
ON REVOLUTION'S ROADS
Memorial tourism in socialist Yugoslavia
Museum of Yugoslav History, Belgrade, Serbia
15 July 31 August 2016