I am obsessed with flowers. I let myself be seduced, although I know that this beauty hides human domination over them. Commoditized and created without thorns, excess leaves and odors, these decorative plants have become "artificial" even though they grow and rot. Many types of flowers you can find in flower shops all over Europe no longer exist in nature. Flower plantations that have been relocated to third world countries today exploit natural resources and people.

Through digitally modified photographs and negatives, I tried to "improve" images of flowers to perfection. By adjusting "nature" to a fashionable taste, I tried to show the attitude behind the permanent changes in human bodies and the environment.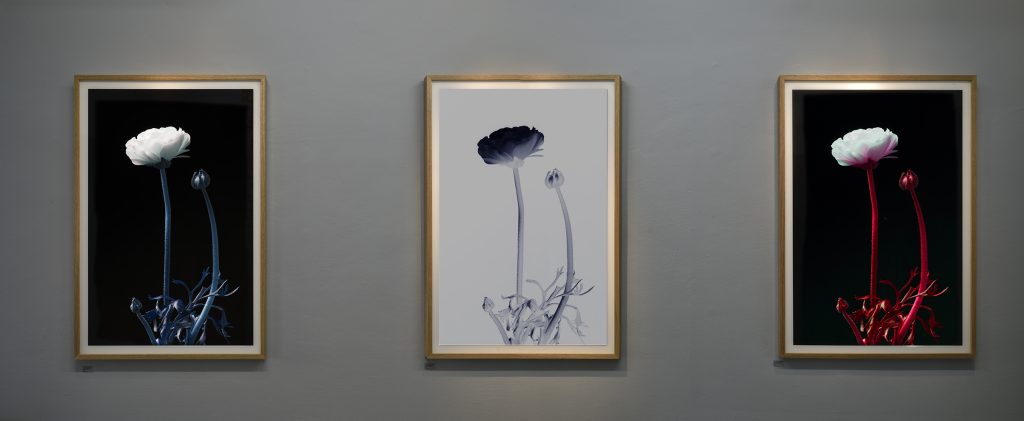 5 Flowers 8 Photographs (solo)
Galerija Fotografija Gallery, Ljubljana
12 February – 23 March 2019
https://galerijafotografija.si/exhibitions/11-tanja-lazetic-5-flowers-8-photographs/
"Hardly any motif in the field of art history has been depicted, discussed and interpreted as often and in so many ways as a flower. It is the carrier of such a wide array of symbols and meanings – their interpretations range from classical myths of Narcissus and Daphne, to Christian interpretations of flowers as symbols of virtues and biblical tales, to Romantic literature of the 19th century, which intensely associated flowers with love and beauty. Because of their historic role in art, flowers are such a powerful semiotic sign, their depictions so drenched in socio-historic meanings, that the notion of a neutral gaze is completely unimaginable. Out perception is consciously or subconsciously saturated with associative meanings. The artist Tanja Lažetić is aware of this, questioning past connotations of flowers in her photography and placing them firmly in the sphere of contemporaneity."
Hana Čeferin (https://galerijafotografija.si/exhibitions/11-tanja-lazetic-5-flowers-8-photographs/)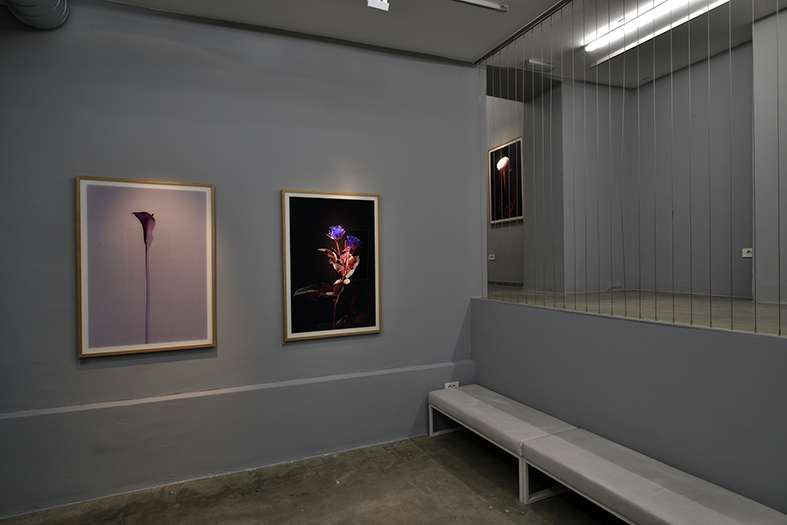 photo: Dejan Habicht
RTV 4
RAZSTAVA TANJE LAŽETIĆ V GALERIJI FOTOGRAFIJA, Melita Kontrec, 26. februar 2020
https://4d.rtvslo.si/arhiv/kultura/174598400
Delo
»Ali niso rože nekaj najlepšega na svetu?«, Irena Štaudohar, 12. marec 2019
https://www.delo.si/kultura/vizualna-umetnost/ali-niso-roze-nekaj-najlepsega-na-svetu-159629.html
Flowers (solo)
Kresija Gallery, Ljubljana
17 June – 17 July 2020
"The scent of nothing is, after all, the scent of something mental. 'Nothing' seems to stink, though not on the physical level of the sense of smell – here, the train of thought comes to a halt. Not pleasant at all, right? And not in the least trivial. What if this is exactly how one should perceive each single flower at this exhibition – as the portrait of you, me, her, him? The portrait of you without any odour – and it is as if this somehow deadens you, as if by taking away your scent you are also stripped of humanity, the thing that can bother one so much about other people, foreigners or not. The portrait of you as a replicant – or of you as a subject. This is you. Find yourself in the artificially natural flower. At some point, you have no scent. What one sees "virtually" while gazing at these flowers is nothing but one's own natural unnaturalness. Smell your portrait."
Excerpt from the text The Scent of Nothing by Marko Jenko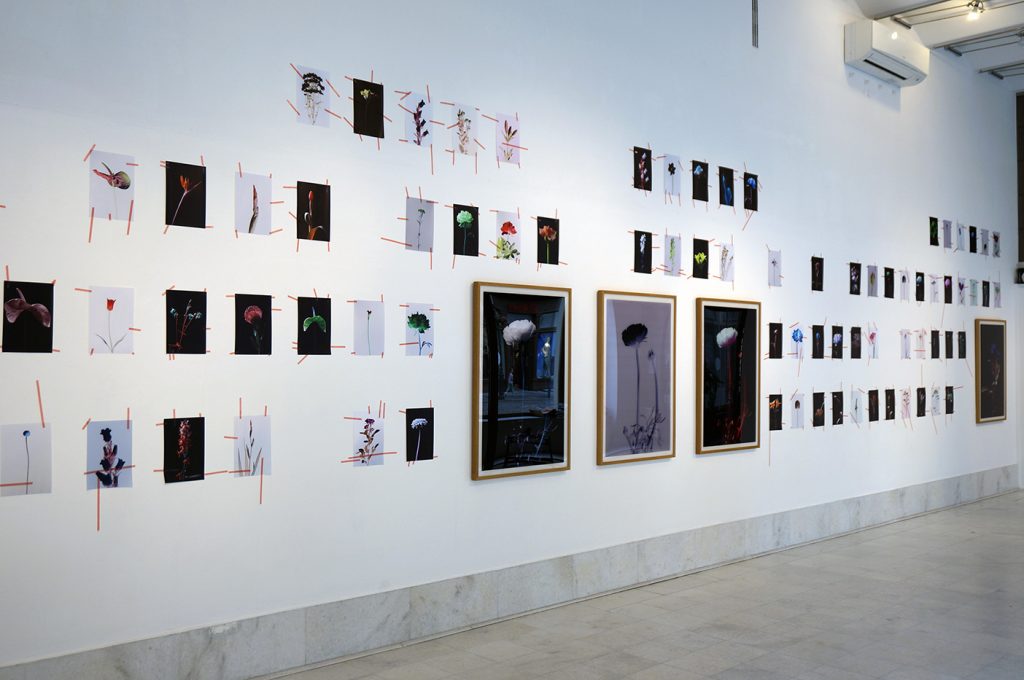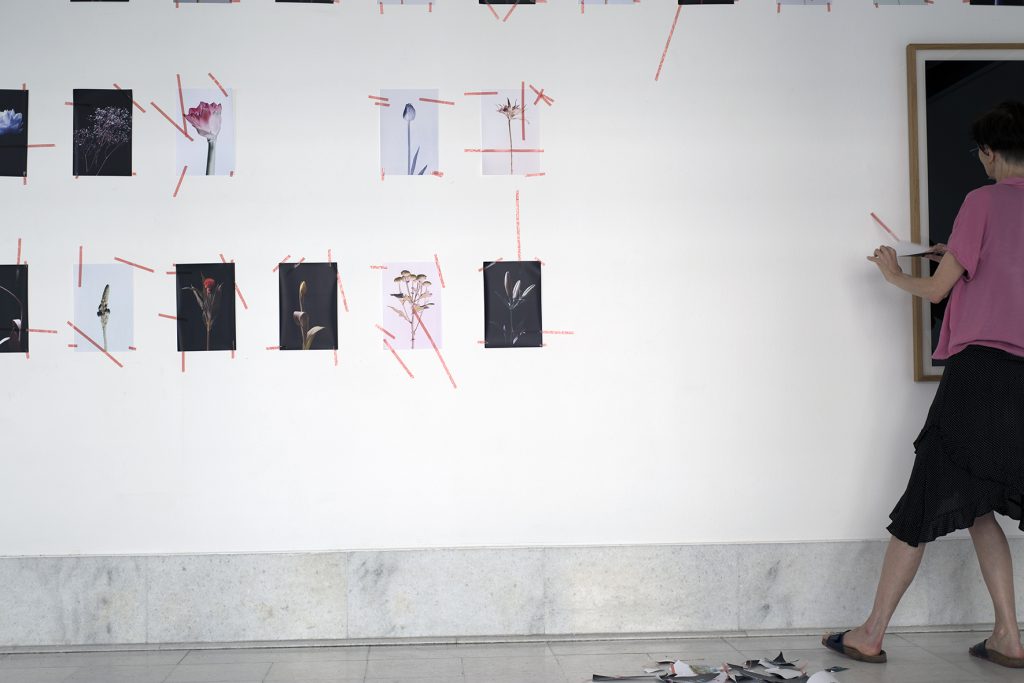 photo: Dejan Habicht
Tearing down the exhibition Flowers at Kresija Gallery in Ljubljana.
Delo
Deloskop, Namig prireditev: Tanja Lažetić – Rože, Ti.L, 17. junij 2020
https://www.delo.si/magazin/zanimivosti/namigi-prireditev-tanja-lazetic-roze-318105.html
RTV 4
Dve razstavi: AIR4 in Rož, Melita Kontrec, 17. junij 2020
https://4d.rtvslo.si/arhiv/kultura/174701090
RADIO ARS
Svet kulture, (Ne)naravne rože Tanja Lažetić, Maja Žvokelj, 06. 07. 2020
https://ars.rtvslo.si/2020/06/svet-kulture-1221/
Flowers (solo)
UGM Studio, Maribor, Slovenia
23 October 2020 – 22 January 2021
Curator: Jure Kirbiš
http://www.ugm.si/en/exhibitions/tanja-lazetic-flowers-3887/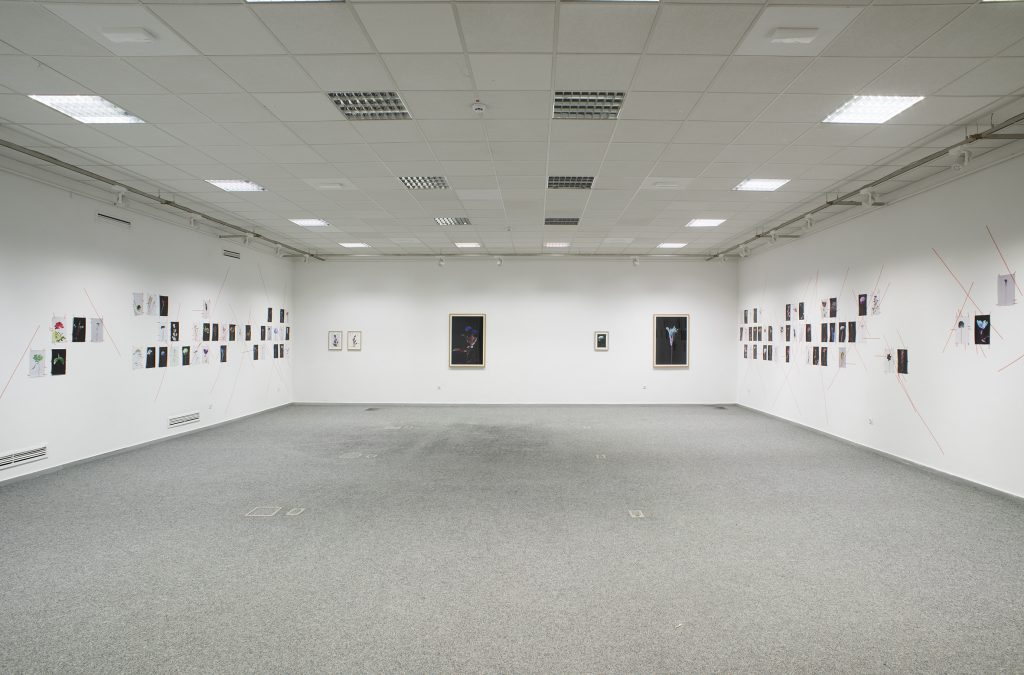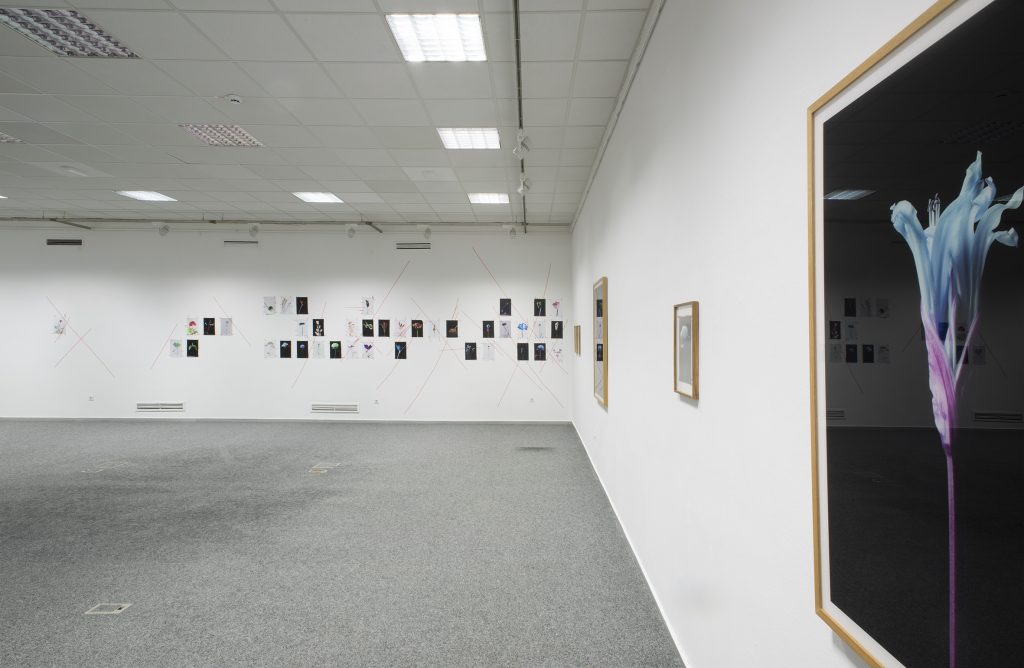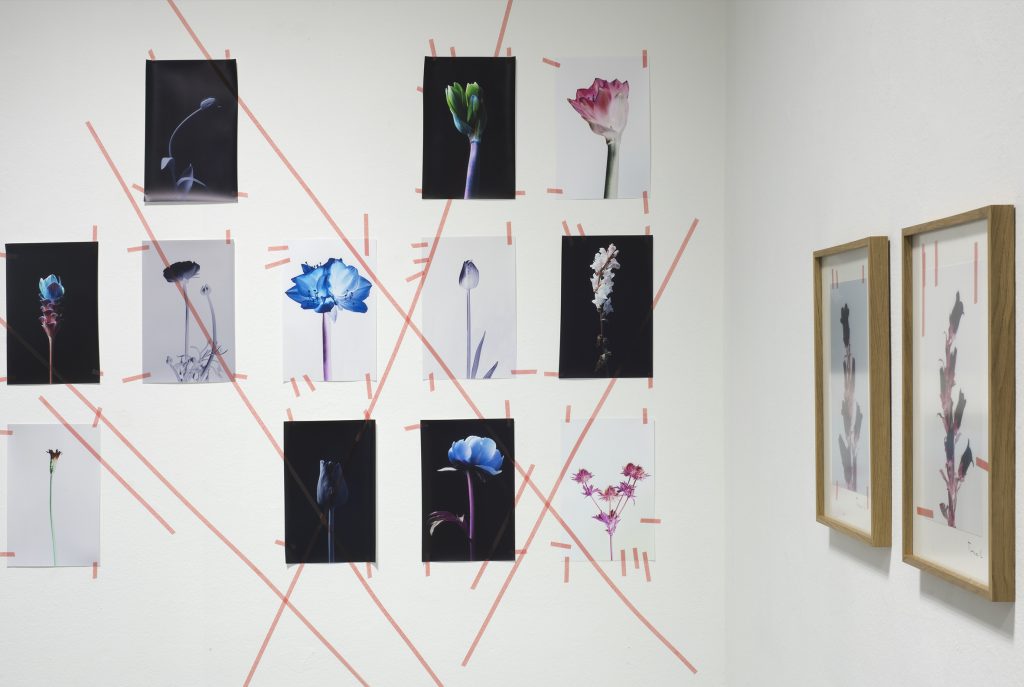 Rože ali kaj reče Pepa, ko stoji nad gorečo posteljo z napihljivo rožo v rokah?
(pogovor med umetnico Tanjo Lažetić in kustosom Juretom Kirbišem v času snovanja razstave v UGM Studiu v Mariboru)
Spoznaj umetnico / Tanja Lažetić
http://www.ugm.si/dogodki/spoznaj-umetnico-tanja-lazetic-3894/?utm_source=newsletter&utm_medium=email&utm_campaign=ugm_novicnik&utm_term=2020-10-27

VEČER
UGM Studio: Portreti rož in Tesla anti-monument, Petra Zemljič, 28.10.2020
https://www.vecer.com/kultura/ugm-studio-portreti-roz-in-tesla-anti-monument-10225708
ROŽE / Spletno ekspres vodstvo v živo na FB
https://www.facebook.com/ugm.maribor/videos/138967687703451
Tearing down the exhibition Flowers at UGM Studio in Maribor.
Elles X ParisPhoto
Le ministère de la Culture
Le ministère de la Culture présente Elles X Paris Photo 2020 dans le cadre de Paris Photo Week-end
https://www.culture.gouv.fr/Presse/Communiques-de-presse/Le-ministere-de-la-Culture-presente-Elles-X-Paris-Photo-2020-dans-le-cadre-de-Paris-Photo-Week-end
MMC RTV SLO
Tanja Lažetić v uglednem pariškem izboru 40 svetovnih fotografinj, A.J., 11. november 2020
https://www.rtvslo.si/kultura/vizualna-umetnost/tanja-lazetic-v-uglednem-pariskem-izboru-40-svetovnih-fotografinj/
Tanja Lažetić / 100 Flowers
Language: Slovenian, English
Texst: Hana Čeferin, Marko Jenko
Size: 24 x 16.5 cm, 219 pages
Binding: hardcover
Publisher: Galerija Fotografija, Didakta, 2021  
Price: 42 €


order by

 e-mail
RTV 4
Knjiga 100 rož Tanje Lažetić, Melita Kontrec, 7. april 2021
https://4d.rtvslo.si/arhiv/kultura/174766875/00:00:13?fbclid=IwAR01unB4VT8Q9gsLGUbY7O3pH8SpZkxqO5u9KmqR4ibrYGw6B8gCe65CeFU
Flours (part of the exhibition Europe Enterprise)
Petit Galerie, Cité internationale des arts, Paris, France
15 October 2020 – 26 October 2021
Curators: Danijela Dugandžić & Jelena Petrović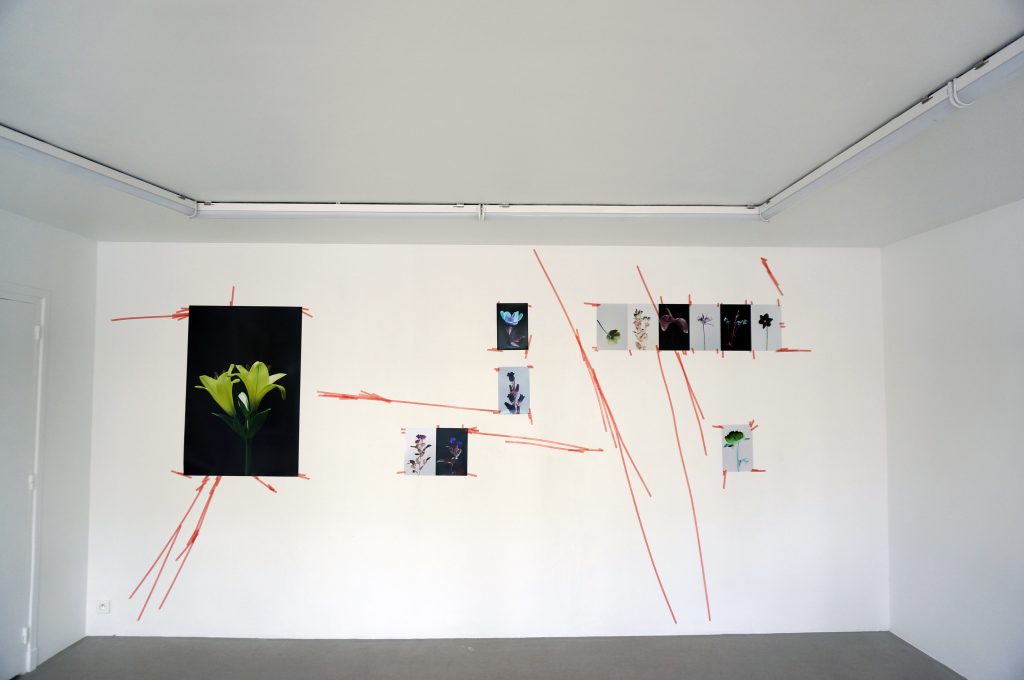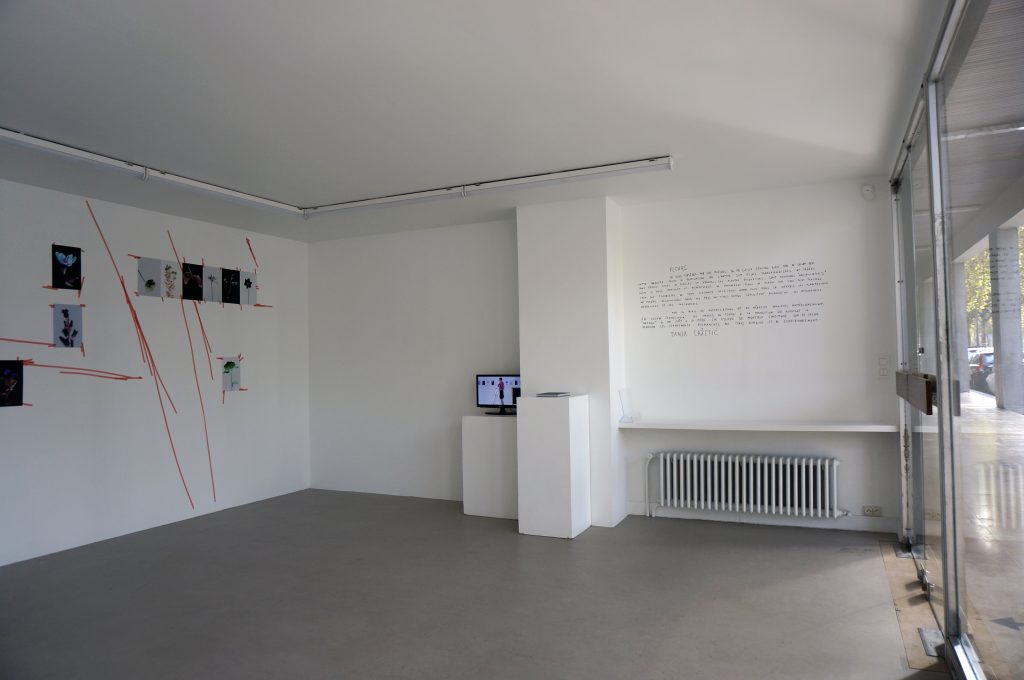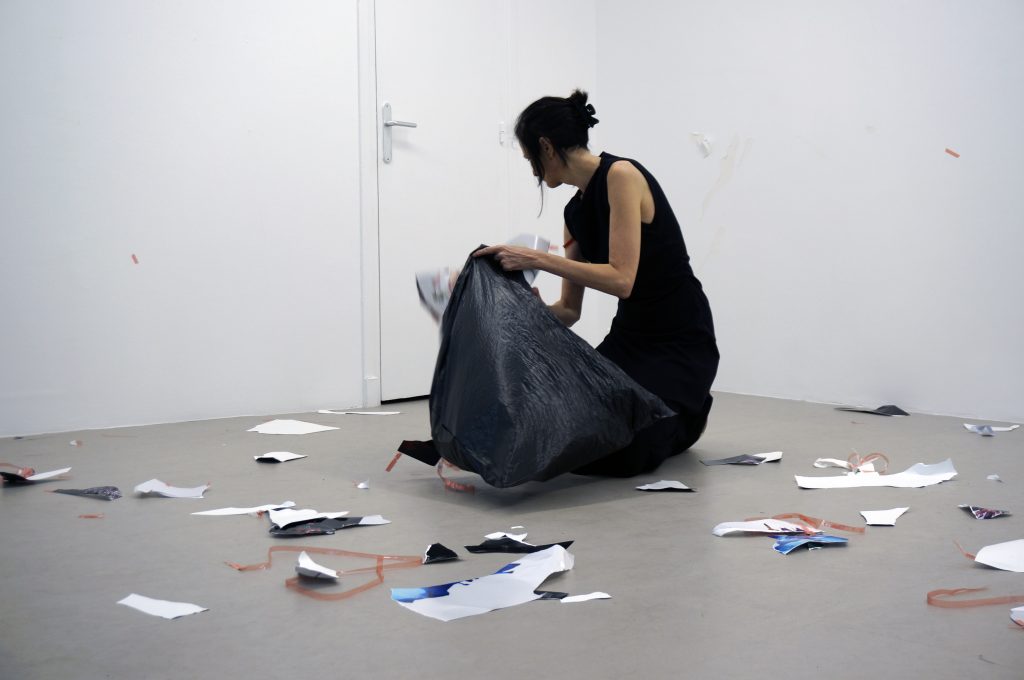 Tearing down prints of flowers from the walls. (photo: Danijela Dugandžić)
Available at Galerija Fotografija Gallery:
https://galerijafotografija.si/artists/46-tanja-lazetic/series/flowers/
28 xx – International festival of contemporary arts — City of Women
The South in Us: Constructing and Performing Ideology
Alkatraz Gallery, Ljubljana
6 – 28 October 2022
Curated by Iva Kovač
https://2022.cityofwomen.org/en/content/flowers