I found some photos of bathers in swimming pools in some old Yugoslavian tourist brochures. They were taken at more or less the same time American artist Edward Ruscha took his photographs of swimming pools for his book Nine Swimming Pools and a Broken Glass (1968). The Los Angeles pools were in the yards of luxurious homes, private and empty. The Yugoslavian pools were their exact opposite.
An Idea for Living – Realism and Reality in Contemporary Slovenian Art
U3 – 6th Triennial of Contemporary Slovenian Art
Museum of Modern Art, Ljubljana
15 June – 5 September 2010
Curator: Charles Esche
Nine Swimming Pools Behind a Broken Glass (book)
Self-Published, softcover, offset-printed, edition of 100, 13 x 18 cm, 36 pages, 2010, 50 €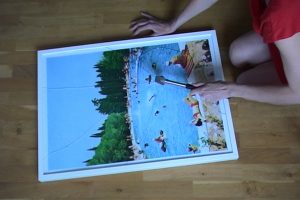 follow-ed (after hokusai)
Gallery P74 (Ljubljana)
11 March – 4 April 2011
Curators: Miichalis Pichler and Tom Sowden
It doesn't always have to be beautiful, unless it's beautiful
Art Gallery of Kosovo, Pristina
30 May – 30 July 2012
Curators: Galit Eilat and Charles Esche
What's Art Got to Do with It? (solo)
Škuc Gallery, Ljubljana
4 – 28 August 2016
Curator: Vladimir Vidmar
The Most Beautiful Place in the World
Klovičevi Dvori Gallery, Zagreb, Croatia
8 September – 2 October 2016
Curator: Sandra Križić Roban
"Nine Swimming Pools and a Broken Glass (1968) was Ed Ruscha's first colour photography book, the artist better known at that time for his painting. The frames reveal his pop-art background and the influence of graphic art, while spatial relations and specific viewing angles point to the strong influence of cinematography on his work. As many of his works, this series also exhibits an ambivalent relationship between the concept and reality; while reality exists at the edges of the frame, the mythologized American everyday life is placed in the focus. At about the same time when Ruscha created his series, a series of photographs of Yugoslav tourist destinations, regularly equipped with pools, had also been made. These photographs were found in a tourist brochure by Tanja Lažetić, who also refers to Ruscha in her other works (e.g. Twentysix Gasoline Stations Only).
Nine Swimming Pools behind Broken Glass points to a specific aesthetic used in order to successfully launch a tourist product. Pools were a part of a holiday package during socialism, mythologized places imported from other cultures and demands. Especially at the seaside where they were an essential surplus, in discord with the surrounding landscape, they might have been considered a luxury available to guests for whom nature's beauty did not provide a satisfactory level of accommodation or safety. The broken glass under which photo enlargements are laid is being held together with a red adhesive tape. The visible pattern unveils the latent scare left by the loss of a shared narrative, a frame within which Yugoslav tourism was once formed. Ruscha's broken glass symbolizes a different kind of an atmosphere which permeates the picturesque parts of Los Angeles; the glass is placed on a smooth surface which reflects the blue sky (and whose colour and position within the frame is reminiscent of a pool). In contrast, the glass that is broken and then pieced together in Tanja's series attempts to reconstruct the shattered image of pleasure. The red tape symbolizes the downfall of a political utopia (unfortunately bringing down with it numerous hotels and pools); it is like a filter for observing recent history which remains inaccessible and impossible to hold together." Sandra Križić Roban
The Most Beautiful Place in the World
Gallery of Fine Arts, Osijek, Croatia
30 May – 25 June 2017
Curator: Sandra Križić Roban