Exploded


Self-Published, softcover, open edition, 13 x 20 cm, 30 pages, 2012, 30 €




The images out of CNN webpages around 11 September 2001 shows fear and the confusion of those days.

Colored


Self-Published, softcover, open edition, 13 x 20 cm, 30 pages, 2012, 30 €




A coloring book of the images of my friends is a response to Ed Ruscha's book Colored People.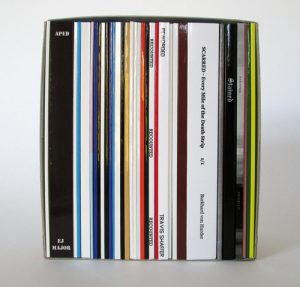 ABC (short for Artist's Book Cooperative) is an informal group of artists who share an interest in the artist's book. Producing a joint work proved a bit challenging, and the resulting 33 books together bear the title ABCED. The books are of uniform size and are all titled with a single word ending in -ed (a simple thing to accomplish in English). At the same time, this is a reference to one of the pioneers – and the most prominent representative – of the modern artist's book Ed Ruscha.
The ABCED series of books, however, is not about blind adulation of the great genius, nor simple copying or repeating or recreating the work of the role model; rather, the books are a reflection on, and an evaluation or even criticism of, Ruscha's work method. The approaches to the task vary vastly. For most of the artists, this is not their first foray into reinterpreting Ruscha's books. This makes their questions about the purpose and method of appropriation highly relevant, and their answers manifold.
All books are print on demand, 8 x 5 inches, softcover. Books are available individually either from the artists or at blurb.com. ABCED was made to celebrate Ed Ruscha's seventy-fifth birthday and the books are available for one year only. ABC will cease distribution the day Ed Ruscha turns seventy-six.
Titles of the books in the ABCED series and the names of the authors:
Abstracted by Jonathan Lewis · Aped by EJ Major · Auctioned by Andreas Schmidt · Borrowed by Joachim Schmid · Clicked by Wil van Iersel · Clothed by Deanna Dikeman · Collected by Wil van Iersel · Colored by Tanja Lažetić · Covered by Hermann Zschiegner · Derailed by David Schulz · Disappeared by Joshua Deaner · Distilled by Jonathan Lewis · Dressed by Julie Cook · Exploded by Tanja Lažetić · Freed by Fred Free · Fucked by Andreas Schmidt · Ignored by Jean Keller · Peed by Jochen Friedrich · Pronounced by Erik Benjamins · Pumped by Mishka Henner · Recounted by Elisabeth Tonnard · Replicated by Joachim Schmid · Reworded by Travis Shaffer · Richtered by Mishka Henner · Rorschached by Andreas Schmidt · Sampled by Jonathan Lewis · Scarred by Burkhard von Harder · Sliced by Heidi Neilson · Stained by Eric Doeringer · Stripped by Paul Soulellis · Uncompleted by Mariken Wessels · Visited by Fred Free · Yellowed by Victor Sira
Artists Books Weekend
Sunday, 23 September 2012
12.00-18.00: ABC Artists' Books Cooperative @ The Mews Project Space, London
The Ed Show
The Digital Art Gallery at the London South Bank University
103 Borough Road, London SE10AA
9 – 30 Oct 2012
33 books in a box
ABCED series presenting by Tanja Lažetić
Tuesday, 18 December 2012, at 6 p.m.
Museum of Contemporary Art Metelkova, Maistrova 3, Ljubljana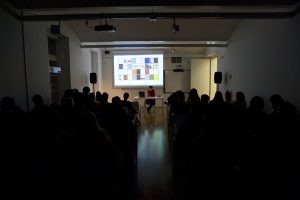 A Fair
University of Kansas Art + Design Gallery
Lawrence, Kansas
22 January 2013 – 15 February 2013
Curator: Travis Shaffer

Ed Ruscha Books & Co.
Gagosian Gallery, New York, Paris, Beverly Hills and Paris
2012 – 2013

Ed Ruscha Books & Co.
Museum Brandhorst, Munich, Germany
June 6 – September 22, 2013

More about the ABC group and the ABCED series of books at: https://abcoop.tumblr.com/